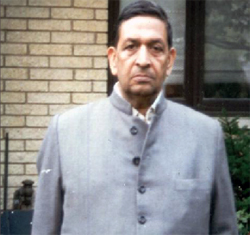 Late Shri Jagdish Saran Gupta, "Babu" (1924-2005) has been the force behind C.L.Gupta's success, His passion towards his work led him to explore different global markets to expand his business and it has only been his dedication and motivation which has allowed C.L.G. to become what it is today. He actively participated and hosted various charitable works and positively contributed towards the society.
It has been his dream to provide the best possible eye care service to the people of this region. During his own eye ailment for which he had to go to Gandhi Eye Institute, Aligarh , he realized the absence of adequate eye care in the area. His first steps towards his dream were through opening a small eye care facility along with an eye bank in a local hospital in Moradabad. This thought has been shared and supported by Dr. Ashi khurana, (who joined the program) after completing her fellowship from L.V.P.E.I in 1998.
Dr. Ashi and CLG team visited L.V.P.E.I., Hyderabad in 2007 and were inspired and impressed with the work done by Dr. G.N Rao, Chairman, L.V.P.E.I. They decided to follow the same ideology excellent, efficient, and equitable eye care services for all those in need.
Babu's presence will always be missed as his dream takes shape in the form of C.L Gupta Eye Institute.