Wings of Subal
Center for Sight Enhancement (low Vision) wing.
Rehabilitation (Wing for people with severe sight loss).
Background
The loss of vision affects a person's quality of life children and adults – hampering their physical, educational ,psychological and economic growth. People with visual impairment can remain isolated from society and confined to the four walls of their home. Several factors are responsible for this, some of which include:
Non-availability of / or access to low vision and rehabilitation services.
Insufficient provisions of affordable low vision devices and rehabilitation services.
Cultural beliefs/myths regarding use of low vision devices and assistive technologies.
Many people have preconceived notion and myths about low vision and blindness and are unaware that people with visual impairment can be successfully rehabilitated
When conventional treatments – medical or surgical – fail to prevent or restore vision loss, vision rehabilitation and sight enhancement services work at empowering people with low vision and blindness - to become important contributing members of the society. These services are a combination of learning daily living and work related skills and the use of suitable low vision devices and assistive technologies along with customized counseling.
CLGEI's Subal department is aimed at providing Vision Rehabilitation to people with low vision and severe sight loss.
The comprehensive scope of service include assessment and prescription of low vision devices to help patients with low vision read again) to social, educational, and vocational rehabilitation through training or re-training patients with low vision and blindness to the highest possible level of their functional ability.
We , at CLGEI have been catering to our low vision clients since 2014. We have recently added services for patients with severe sight loss and multiple disabilities. 'Subal' the Vision Rehabilitation Department was formally established in December 2021. Rehabilitation services at Subal cater to those whose eye disorders are not medically treatable. Services at Subal are customized for everyone as per their needs to merge into mainstream society whether they are literate, illiterate, working professionals, unemployed etc.
Our Projects
Subal has 3 projects for the people with visual impairment.
Education.
Adjustment.
Vocational rehabilitation.
1. Education for school-going and over-aged blind students
2. Adjustment for newly blinded persons.
3 Vocational Rehabilitation for adult blind folks above 18 years of age in
A day workshop on role of Community Health Workers (CHWs) in empowering blind and visually impaired persons
'Subal' (the vision rehabilitation) and community field outreach departments of our CL Gupta Eye Institute (CLGEI) collaboratively organized a day workshop for our community health workers (CHWs) of our vision centers. The main topic of the day workshop was the role of CHWS in empowering people with visual impairment. The session was taken by our partner organization (the Blind Relief Association) Deputy Secretary Operations, Mr. David Absalom who is in the domain of rehabilitation of blind and visually impaired persons for the past 27 years. A special educator also contributed in the session. Here you go for the event details:
| Date | Time | Venue |
| --- | --- | --- |
| 10/04/2022 (Sunday) | 12:00-4:00 p.m. | CL Gupta Eye Institute Auditorium |
| Total number of participants | Gender | Educational Qualification | Age group | Districts |
| --- | --- | --- | --- | --- |
| 36 | 35 females and 1 male | 10th-12th pass | 19-40 years | Bijnor-6, Amroha-8, Muradabad-18, Rampur-1, Sambhal-3 |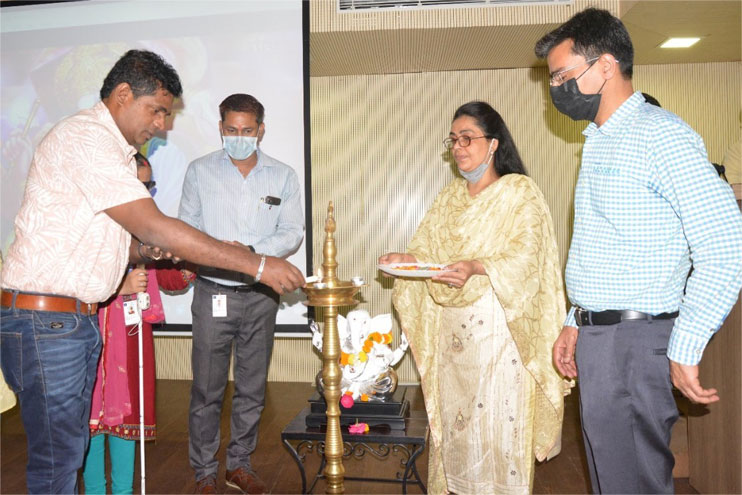 The workshop lasted for 4 hours that had welcome note ceremony, lecture on educational, Governmental and vocational opportunities for blind and visually impaired persons, role of CHWs in empowering a blind and visually impaired person, about Subal department, the workshop ended with the vote of thanks and group photographs. The Anchors were Ms. Asma and Deepak Sharma from Subal department.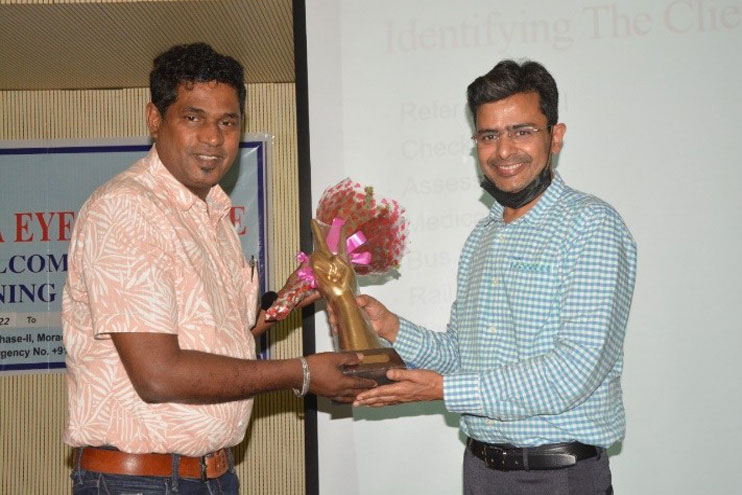 Mr. Absalom emphasized on the fact that early detection of blindness, early intervention to over-come the limitations of blindness are the ideal conditions for the perfect development of a child with blindness. However, this is not the reality generally. Thus, there are special schools especially meant for blind and visually impaired kids. Some also prefer mainstream education for the blind and visually impaired children. There is an option of distance mode of education for over-aged students. If over-aged children are properly rehabilitated then they can also be admitted in the appropriate class as per their age.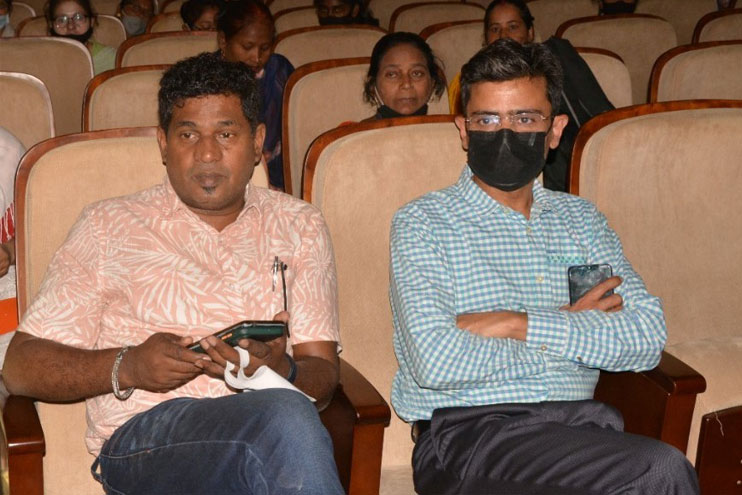 Unskilled and semi-skilled vocational trainings are best suited for over-aged and illiterate or less educated visually impaired persons who are above 25 years of age. Dr. Pradeep Agarwal, the director of CLGEI emphasized on the treatment of avoidable blindness and usage of low vision devices in case of reduced vision. In his opinion, rehabilitation is the last resort in case of failure of medical treatment and low vision devices. He blessed the participants to learn the concepts carefully so that they become useful in their daily functioning.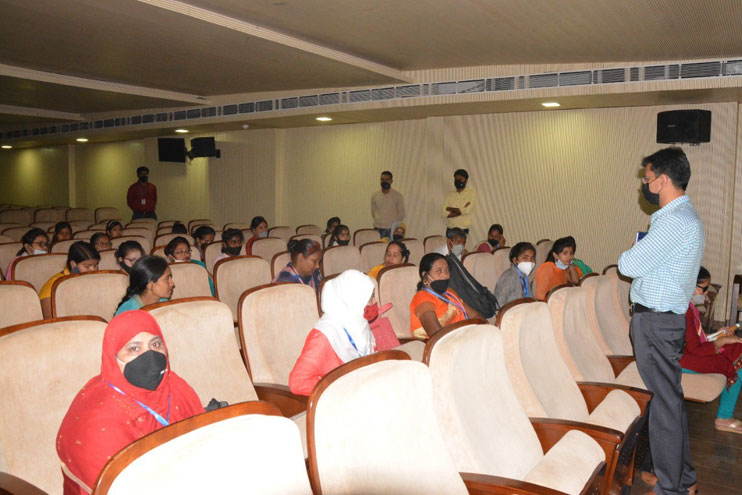 Mr. Satya Prakash, Field Outreach Manager of CLGEI impressed upon the need of active role of CHWs in identifying blind people and helping them reach to our institute for medical treatment and rehabilitation.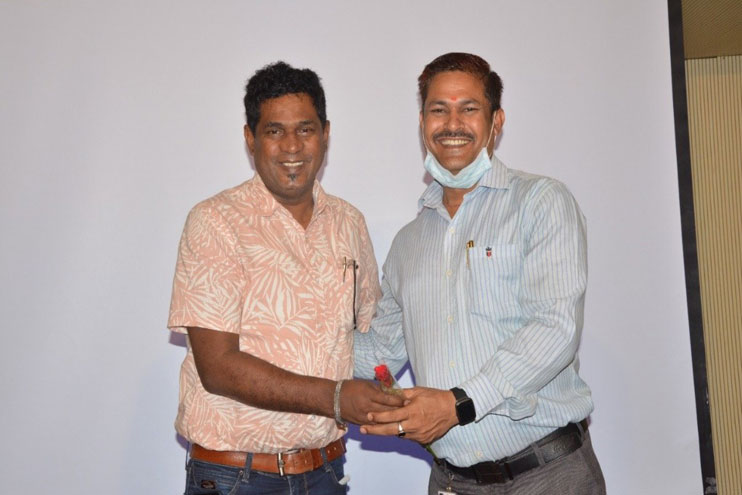 Mrs. Binni Kumari the head of rehab department at CLGEI informed about Subal's major activities of education and vocational trainings for blind and visually impaired persons.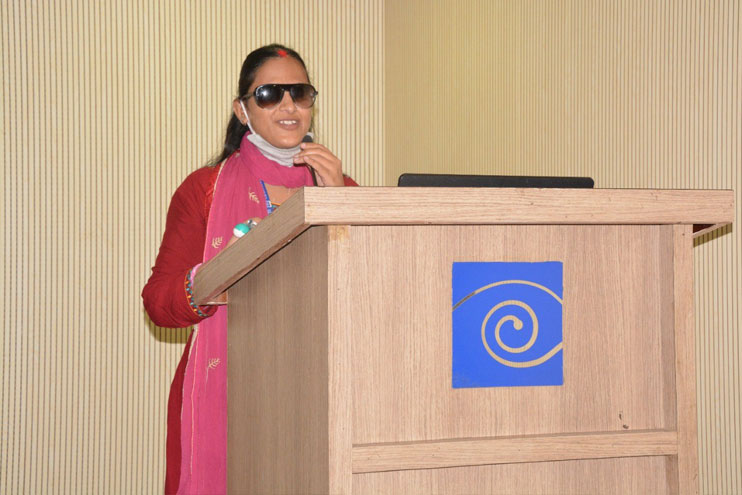 Mr. Samir Suthar, HoD Optometry and Education Services at CLGEI thanked everyone for making the workshop successful and emphasized on the fact that such workshops are a must and they should be done on frequent basis to bring consistency about education on rehabilitation of blind and visually impaired persons.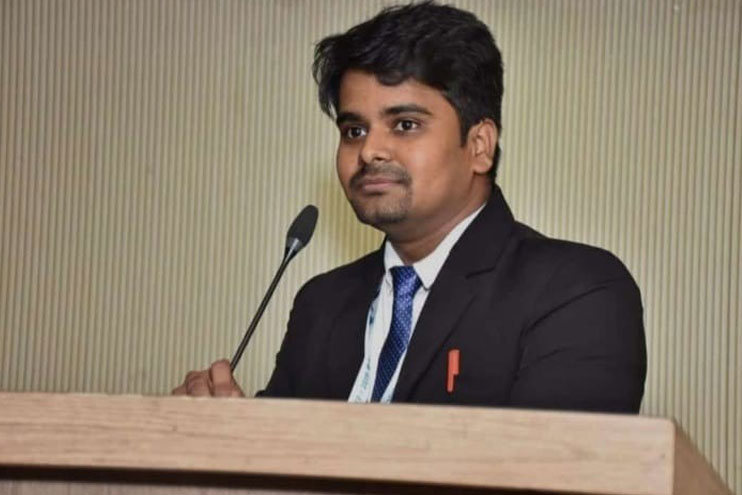 A way forward
1. We plan to share videos on vision rehabilitation on frequent basis with CHW group.
2. We plan to have frequent meetings on monthly basis with CHWS to instill the confidence and concept of empowerment of blind and visually impaired persons in them.
3. We aim at reaching at least 70 visually impaired people in an year with the help of our CHWs.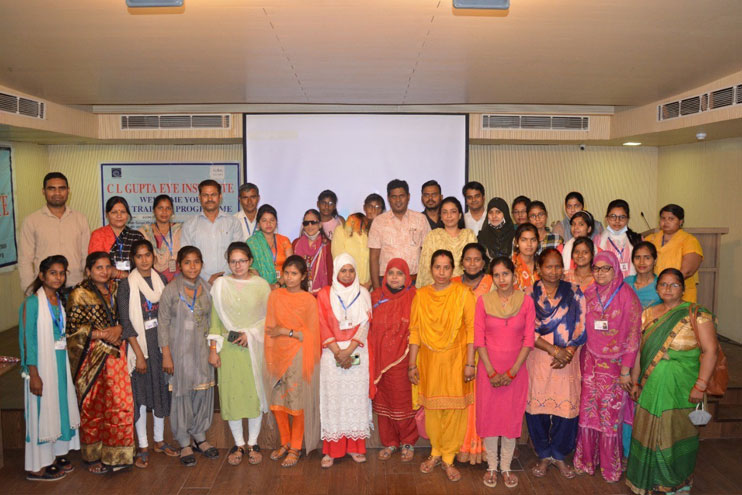 Contact us
Mob: 9997842511, Tel: 05912477800 between Monday-Saturday 9 a.m.-5.30 p.m.
Address: C.L. Gupta Eye Institute Ram Ganga Vihar Phase II (Extn.), Moradabad, Uttar Pradesh 244001
Web: www.clgei.org
Email:binni@clgei.org